Doug Gottlieb Says the NFL Deserves Credit for Not Suspending Tyreek Hill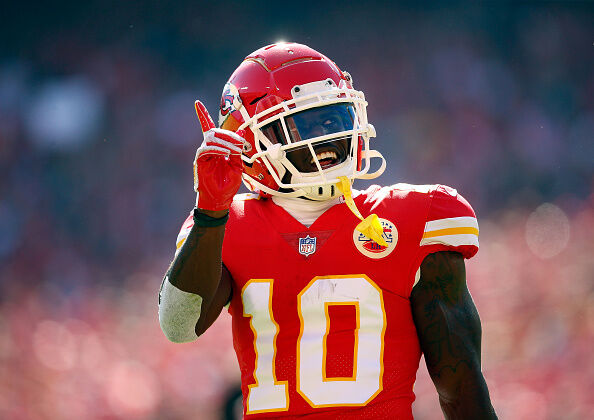 Doug Gottlieb: "Twitter is not going to be happy but Twitter does not rule the world. If you think Tyreek Hill's prodigious speed and athletic ability is the reason he's on the field, I have to tell you I don't see it that way. My guess is that there is literally nothing there, otherwise there's no chance the NFL would do this. It's just too risky. You almost want to credit the NFL for going 'OK, let's find out what's real and let's find out what's assumed. And since they can't find anything real they have no choice but to let Hill play football, and then put in a line or two about this being an 'ongoing' investigation. I don't think it's a good moment for the NFL but I think it's a great moment for all of us to take a breath and realize charges and accusations are just that."
Listen to Doug Gottlieb (filling in for Colin Cowherd) discuss why the National Football League deserves some credit for the way they handled their investigation of Kansas City Chiefs wide out Tyreek Hill and their decision not to suspend him.
The league had been under the microscope the last three months when it came to how they were going to approach an incredibly damning taped conversation that went public between Hill and his then-fiancee that included obscene and disturbing language about abuse involving the couple's child and harsh physical accusations against Hill.
Many thought the surfacing of the secret audio tape was going to potentially end Hill's career, who already had a huge blemish to his name from college. However, after the entire audio tape was revealed last week it added an entirely new perspective to the story that the local KC television channel had conveniently edited out when they first dropped the bombshell in April. It was Hill denying the charges that got him thrown out of Oklahoma State in 2015, and also denied hurting their 3-year-old child… A layer to the story that the original audio never included. It seemed to change the narrative of Hill's relationship to the woman, and had many wondering if there was something mischievous in the way the women tried to secretly record Hill and possibly bait him into saying certain things.
Check out the audio below as Gottlieb says the NFL should receive some credit for not caving to the demands of social media, which obviously leaned heavily towards throwing Hill out of the league forever. From what the NFL knows right now, Gottlieb says 'charges and accusations' are simply just that without real evidence.

The Herd with Colin Cowherd
Want to know more about The Herd with Colin Cowherd? Get their official bio, social pages & articles on FOX Sports Radio!
Read more