Herd Hierarchy: Colin Cowherd Ranks the 10 Best NFL Teams After Week 2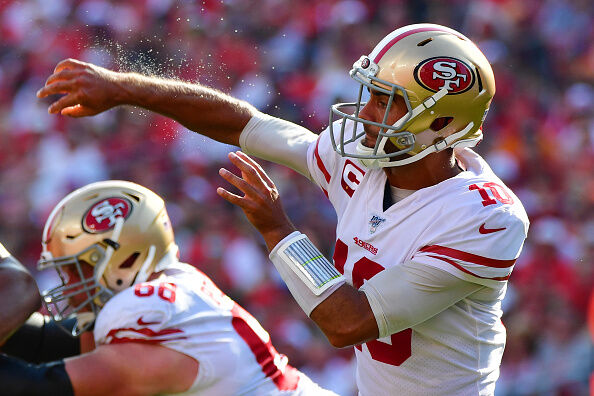 Colin Cowherd Ranks the 10 Best NFL Teams After Week 1
(Full Video at Bottom of Page)
10. Buffalo Bills (2-0): "Two straight wins and have scored a touchdown on all five of their trips to the red zone. This is the best coaching staff in the NFL that no one is talking about; they never put Josh Allen in a position to fail. This could be a wild card team."
9. San Francisco 49ers (2-0): "They didn't win a road game last year and already have two in two weeks. They only had two interceptions all of last year and already have two this year."
8. Seattle Seahawks (2-0): "They're 2-0 for the first time since their Super Bowl. Have you noticed EVERY wide receiver they attain plays well with Russell Wilson? I was a doubter on Seattle, and I didn't think they would overcome Frank Clark to the Chiefs, but they've looked pretty good."
7. Philadelphia Eagles (1-1): "They have an injury bug at wide receiver but they're going to be fine. I love their coach, I love their GM, I love their quarterback, they have a good offensive line, and a really good defensive line."
6. Baltimore Ravens (2-0): "Not only are they productive, but I'm not seeing a ton of penalties and they don't have a single turnover this season. This is a very good coaching staff and Lamar Jackson is ascending."
5. Green Bay Packers 2-0): "That defense has five takeaways, which is tied for the most in the NFL. That defense is young, fast, and they're coaching it to be aggressive. This is a Top 5 defense."
4. Los Angeles Rams (2-0): "We don't think of the LA Coliseum as a home field advantage but they're 8-1 in their last 9 home games. We all worried about Todd Gurley, but Cooper Kupp is Jared Goff's key, and has been instrumental this year."
3. Dallas Cowboys (2-0): "Dak has only been sacked once all year, and when healthy it's the best offensive line in the NFL. They have about eight elite players; elite running back, elite receiver, elite left tackle, elite center, two elite linebackers, an elite corner, and elite edge rusher… Not even New England has this many elite players."
2. Kansas City Chiefs (2-0): "Patrick Mahomes has a spectacular game every week. They have scored 25+ points in 23 straight games, and we're seeing the best play designer in the league with the best quarterback talent in the league."
1. New England Patriots (2-0): "This is the best secondary in the NFL and they never get beat over the top. They have fast, hard-hitting linebackers, and don't have one elite pass rusher but led the league in pressure last year. They don't get penalized, Brady is so detailed, and I think they have the deepest group of running backs in the NFL."

The Herd with Colin Cowherd
Want to know more about The Herd with Colin Cowherd? Get their official bio, social pages & articles on FOX Sports Radio!
Read more