'Dis or Dak?': Which NFL Quarterbacks Aren't as Good as Dak Prescott?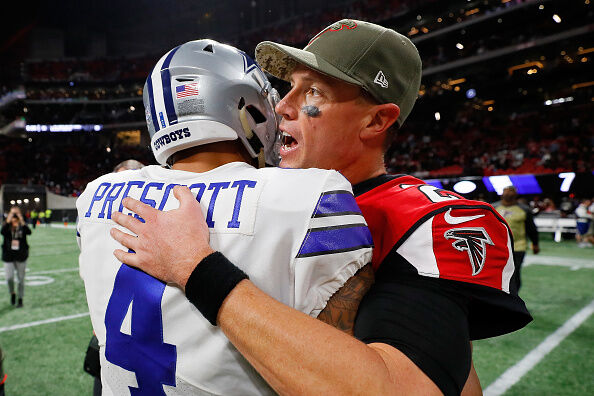 Listen to Colin Cowherd play a new game he's calling 'Dis or Dak?' where he debates which NFL Quarterbacks he believes are a better option than Dak Prescott for the next five years.
Check out the matchups below: (Full Analysis in Video at Bottom of Page)
Would You Rather Have…?
Carson Wentz or Dak? WENTZ – "I think Carson Wentz and Patrick Mahomes in terms of size, 'It', leadership, and arm strength are transitional players."
Jared Goff or Dak? GOFF – "Outside of Russell Wilson and Patrick Mahomes, Goff is one of the best deep ball throwers in the league."
Jimmy Garoppolo or Dak? DAK –"Dak is a better athlete and doesn't have two injuries."
Deshaun Watson or Dak? DAK – "I don't think Deshaun is a great natural thrower and I worry that Watson only plays one way. And that way will put him into harm's way."
Derek Carr or Dak? DAK – "There is an availability thing, a leadership thing, a toughness thing, and mobility thing, I'm taking Dak."
Lamar Jackson or Dak? DAK – "Everyone has seen Dak two and three times and Dak is still beating people. Lamar has not proven to me that he can beat people multiple times a year. Is Lamar going to be running around in five years?"
Sam Darnold or Dak? DARNOLD: "It's going to take a couple years, but Darnold is better than Dak."
Baker Mayfield or Dak? DAK – "Maturity, size, athletic ability? I'm taking Dak. Baker is a way better throw but off-field bad judgement translates to on-field bad judgement. Baker leads the league in picks since he became a starter."
Ben Roethlisberger or Dak? DAK – "Ben is 37, he's hurt, and he has declining accuracy issues."
Matt Ryan or Dak? RYAN – "As a precision thrower and pre-snap, Matt Ryan is on a different level than Dak, and I think Matty just got into his prime."
"So all told, I would take Wentz, Goff, Darnold, Ryan, Mahomes, Rodgers, Wilson, and Brady over Dak the next five years."

The Herd with Colin Cowherd
Want to know more about The Herd with Colin Cowherd? Get their official bio, social pages & articles on FOX Sports Radio!
Read more